The Use of Poly(ethylene oxide) as Hydrogen Donor in Type II Photoinitiated Free Radical Polymerization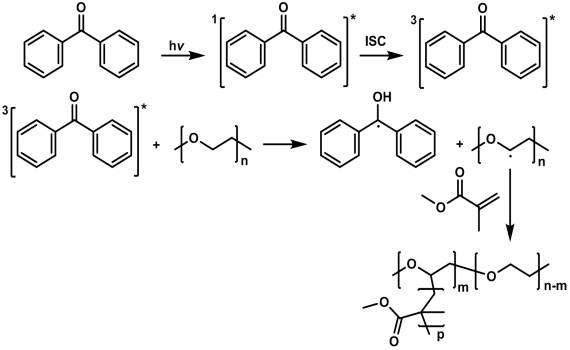 The Use of Poly(ethylene oxide) as Hydrogen Donor in Type II Photoinitiated Free Radical Polymerization, M. A. Tasdelen, N. Moszner, Y. Yagci, Polym. Bull., 63, 173-183 (2009) DOI: 10.1007/s00289-009-0079-2
Abstract
The aim of this study was to demonstrate hydrogen donating capability
of poly(ethylene oxide) (PEO) in type II photoinitiated free radical polymerization
for dental applications. Photopolymerization kinetics of the dental resin mixtures
were monitored by Photo-DSC. H-NMR spectroscopic and GPC studies were also
performed in order to gain insight to the hydrogen abstraction mechanism. The
effect of molecular weight of PEO on the photoinitiation efficiency was investigated.
Photolysis of solutions containing benzophenone and PEO in the presence of
a radical scavenger namely, 2,2,6,6-tetramethylpiperidine-N-oxyl free radical
(TEMPO) revealed that photoexcited benzophenone readily abstracts hydrogen
from methylene groups present in PEO backbone. It was demonstrated that such
photoinitiating system can be converted to a versatile grafting process. PEO possessing
photochemically attached TEMPO units initiates the nitroxide mediated
radical polymerization of styrene upon heating at 110 C leading to the formation of
poly(ethylene oxide-g-styrene) graft copolymer. Potential use of the photoinitiating
system in dental formulations was also demonstrated. The polymeric nature, water
solubility and nontoxicity make PEO a promising candidate as hydrogen donor in
dental formulations.
---