Synthesis and Characterization of Polymer/Clay Nanocomposites by Intercalated Chain Transfer Agent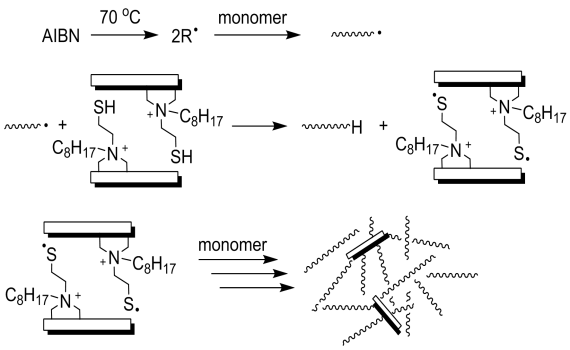 Synthesis and Characterization of Polymer/Clay Nanocomposites by Intercalated Chain Transfer Agent, H. Akat, M. A. Tasdelen, F. Du Prez, Y. Yagci, Eur. Polym. J. 44, 1949-1954, (2008) DOI: 10.1016/j.eurpolymj.2008.04.018
Abstract
In situ synthesis of poly(methyl methacrylate) (PMMA) and polystyrene (PS) nanocomposites
by free radical polymerization using intercalated chain transfer agent (I-CTA) in the
layers of montmorillonite (MMT) clay is reported. MMT clay was ion-exchanged with
diethyl octyl ammonium ethylmercaptan bromide, which acts both as suitable intercalant
and as chain transfer agent. These modified clays were then dispersed in methyl methacrylate
(MMA) or styrene (St) monomers in different loading degrees to carry out the in situ
free radical polymerization. The intercalation ability of the chain transfer agent and exfoliated
nanocomposite structure were evidenced by both X-ray diffraction spectroscopy
(XRD) and transmission electron microscopy (TEM). Thermal properties and morphologies
of the resultant nanocomposites were also studied.
---