Synthesis and Characterization of Polysulfone/POSS Hybrid Networks by Photoinduced Crosslinking Polymerization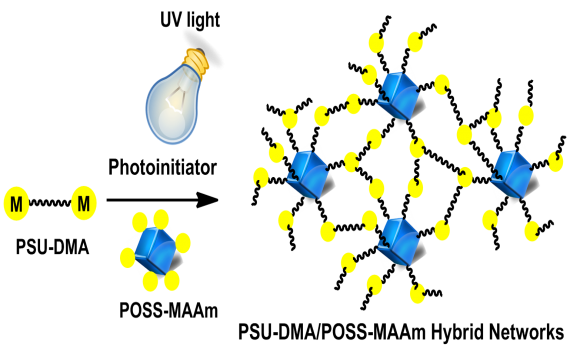 Synthesis and Characterization of Polysulfone/POSS Hybrid Networks by Photoinduced Crosslinking Polymerization, C. Dizman, M. A. Tasdelen, T. Uyar, Y. Yagci, Macromol. Mater. Eng., 298, 1117-1123, (2013) DOI: 10.1002/mame.201200351
Abstract
Crosslinked polysulfone/polyhedral oligomeric silsesquioxane (POSS) hybrid networks were
synthesized in this work by photoinduced copolymerization of polysulfone dimethacrylate
(PSU-DMA) and multifunctional POSS-methacrylamide (POSS-MAAm) with various feed
ratios. The morphology of the nanocomposites was investigated by transmission electron
microscopy (TEM), which suggests the random dispersion of POSS in the PSU matrix without
macroscopic agglomeration. Thermogravimetric analysis results confirmed that the thermal
stability and char yield of PSU-DMA/POSSMAAm nanocomposites increased with the
increase of POSS loading. Enhanced glass transition temperatures and storage modulus of the
networks were observed to be higher than its precursor polymer.
---