In situ Synthesis of Oil Based Polymer/Silver Nanocomposites by Photoinduced Electron Transfer and Free Radical Polymerization Processes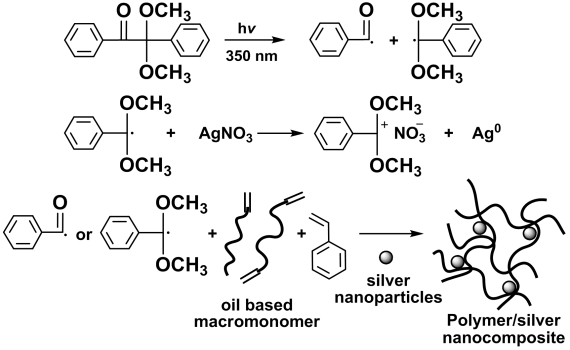 In situ Synthesis of Oil Based Polymer/Silver Nanocomposites by Photoinduced Electron Transfer and Free Radical Polymerization Processes, O. Eksik, M. A. Tasdelen, A. T. Erciyes, Y. Yagci, Compos. Interfaces, 17, 357-369 (2010) DOI:10.1163/092764410X495289
Abstract
In this study, in situ synthesis of oil-based polymer–silver nanocomposites was achieved by using photoinduced
free radical polymerization processes in which silver nanoparticles were formed by electron transfer
reaction. An oil-based macromonomer was prepared and then copolymerized with styrene in the presence of
AgNO3. Copolymerization was started with free radicals formed by photolysis of 2,2-dimethoxy-2-phenyl
acetophenone and simultaneously silver nitrate was reduced to metallic silver in nanosize by electron transfer
reaction. The amount of photoinitiator influenced the size of silver nanoparticles formed within the
polymer films. Nanocomposite films were characterized by TEM and TGA analysis. The obtained polymer
nanocomposite film was also examined in respect of surface coating material that would have an antibacterial
effect against Gram-positive, Gram-negative and spore-forming bacteria. It was demonstrated that
suitably coated nanocomposite samples exhibited an antibacterial effect against these bacteria.
---