Poly(methyl methacrylate)/Clay Nanocomposites by Photoinitiated Free Radical Polymerization Using Intercalated Monomer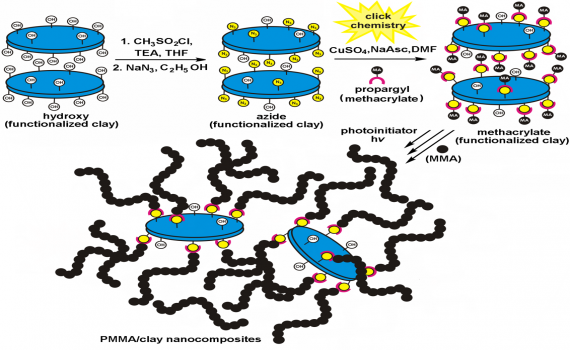 Poly(methyl methacrylate)/Clay Nanocomposites by Photoinitiated Free Radical Polymerization Using Intercalated Monomer, A. Oral, M. A. Tasdelen, A. L. Demirel, Y. Yagci, Polymer, 50, 3905-3910 (2009) DOI: 10.1016/j.polymer.2009.06.020
Abstract
A series of poly(methyl methacrylate)/montmorillonite (PMMA/MMT) nanocomposite were prepared by
successfully dispersing the inorganic nanolayers of MMT clay in an organic PMMA matrix via in situ
photoinitiated free radical polymerization. Methyl methacrylate monomer was first intercalated into the
interlayer regions of organophilic clay hosts by ''click'' chemistry followed by a typical photoinitiated free
radical polymerization. The intercalated monomer was characterized by FT-IR spectroscopy, elemental
analysis and thermogravimetric analysis methods. The intercalation ability of the modified monomer and
exfoliated nanocomposite structure were confirmed by X-ray diffraction spectroscopy (XRD), transmission
electron microscopy (TEM) and atomic force microscopy (AFM). Thermal stability of PMMA/
MMT nanocomposites was also studied by both differential scanning calorimetry (DSC) and thermogravimetric
analysis (TGA).
---